This event is closed.
If you are involved in B2B marketing or sales – whether you work for a big company, small company, or are self-employed as a consultant – you NEED to attend this seminar!
───────────────────────────────────────────────────────────────────────────────────────────────
The world of online marketing is a very competitive and confusing place… SEO, paid search, email campaigns, and the wide range of social media platforms.
But the key rules of marketing still apply… identify your target market, find the best channels for reaching them, and connect with them in a way that gets their attention and generates the desired response.
Fact: More than 1 out of every 3 professionals on the planet are on LinkedIn, with two new members joining every second. More than 300 million members… many who have decision making authority.
Fact: 93% of B2B marketers rated LinkedIn as a highly effective way to generate leads… higher than every other social media network.
Fact: Content has become one of the most important tools for generating leads, brand awareness and positioning, and 85% of B2B marketers say LinkedIn is the most effective social network for delivering content to their target audience.
Fact: More than 50% of the Fortune 100 use LinkedIn Marketing Solutions. And LinkedIn is moving aggressively to become even more dominant in the B2B space with marketing tools like Showcase Pages and SlideShare.
As a result… having an online B2B marketing plan where LinkedIn does not play a role is like competing in a triathlon without learning how to swim.
Attendees will learn how to get the most out of LinkedIn as a marketing platform and how to make LinkedIn part of an integrated online marketing strategy… knowledge you'll be able to put to work the same day!
Just a few of the actionable skills you will walk away with include:
How to create a strong LinkedIn presence and strategy starting with an eye-catching profile
How to create and get the most out of 'Company Pages' and 'Showcase Pages'
How to optimize both your personal and company profile for search engines
Understanding and leveraging the powerful combination of LinkedIn and "content-based marketing"
How to implement a successful lead generation program on LinkedIn
How to become an 'influencer' using LinkedIn's Publishing platform, Groups, and SlideShare
How to track and measure the results of your LinkedIn marketing plan
| | |
| --- | --- |
| So mark your calendar for Wed., December 10, noon - 5:00. Lunch is included, and attendees can bring their laptops to use during hands-on exercises. | |
In addition, attendees can enter to have their personal and/or company profiles reviewed.
---
About the Presenter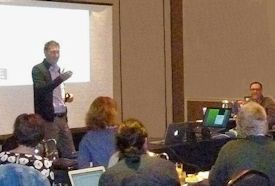 Chris Raulf is an international SEO and social media expert and founder of Boulder SEO Marketing, a Boulder-based online marketing agency. Chris and his team help companies around the world get the most from their online presence through improved, integrated and more focused search engine optimization, content marketing and social media strategies… including teaching clients and attendees of his seminars how to get the most out of LinkedIn.
The Online Marketing Institute recently added Chris to its 'Top 40+ Digital Strategists in Marketing for 2014' list. A frequent presenter at conferences, Chris also enjoys sharing his passion for digital marketing on his blog.
Just a few comments from recent attendees of Social Media / SEO courses taught by Chris…
"Chris did a great job organizing and leading this full-day SEO and digital marketing workshop. I'm excited to implement the learned tactics and strategies…"
Stu Swineford - Partner at Relish Studio
"As a social media marketing and search engine optimization strategist I need to stay on top of things and keep up with new trends, tactics and strategies. I learned very valuable information which will allow me to take our SEO and social media efforts to the next level."
Leyla Sarper - SEO & Social Media Strategist, Head Rush Technologies
"Chris is a generous and gifted teacher & consultant. My investment of time with him has continuing benefits for me and my clients."
Frank DeDominicis - Vice President at BDSi.org